TECHNOLOGY / R&D AND INNOVATION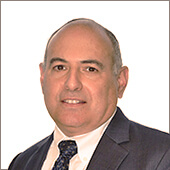 CMOS Image Sensor Business Unit:
Technology Trends Driving Rising Demands
Dr. Avi Strum, Sr. VP
GM, CIS Business Unit
Sensors are everywhere. Many application markets rely on the advanced capabilities of CMOS image sensor (CIS) technology. Penetration into higher added value markets such as automotive, industrial and medical shows that CIS products are transforming use cases across the board. Besides the transformation of current applications, new applications such as drone photography, biometric identification, and augmented reality are relying on CIS innovation. With sensors being one of the top trends in the semiconductor industry today, TowerJazz is well-positioned to provide a leading specialty CIS platform for our customers.
TowerJazz primarily serves six different market segments within the CIS general market: automotive, machine vision, high-end photography and cinematography, dental and medical X-ray, 3D and AR/VR (augmented reality and virtual reality) and security.
We provide best in class pixel technology, tailored for each specific sensor application area such as:
Very high dynamic range pixels for the automotive industry
Unique low noise and extremely small global shutter pixels for the fast increasing industrial vision market
Extremely low dark current, low hot pixel count and low noise pixels for the high end photography and cinematography market
Large stitched pixels for medical and dental X-ray
Near Infrared sensitive global shutter small pixels for 3D and AR/VR applications
Very small, yet highly sensitive pixels for the fast growing security market.
In addition, TowerJazz tailors the pixel layout as well as the process parameters per each customer's requirement, providing silicon proven, state of the art pixels.
MAIN APPLICATIONS & MARKET SEGMENTS
Medical and Dental X-RAY Market
TowerJazz is growing our market share substantially working with our leading customers in this area. The market is shifting from amorphous silicon to CMOS technology and we are taking advantage of this by using our unique stitched technology for up to one die per wafer (150mm x 125mm) that can be tiled into large panels by our customers. We are now offering this technology also on 12" wafers in our TPSCo facility in Uozu, Japan.
3D and AR/VR (Augmented Reality/Virtual Reality)
The 3D and AR/VR areas are extremely fast growing. The need for this technology can be seen all over the place, from Google glasses to Intel's RealSense. The advanced technology requirements are for very high sensitivity to near-infrared as well as very low power. Our expertise in global shutter pixel technology allowed us to develop unique, near-infrared sensitive global shutter pixels that are required for this market segment.
High End Photography and Cinematography
TowerJazz already has a leading position in the cinematography camera market, where a huge amount of films, including Oscar award winners, were shot with a sensor produced by TowerJazz. In addition, we are increasing our market share in the still photography area of DSLR and Mirror Less (ILC) cameras, based on our excellent state of the art technology on 12" wafers, 65nm process node.
Automotive
The automotive market is growing very fast, driven by ADAS (Advanced Driver Assistant Systems) and autonomous driving requirements. Expectations are for six to eight cameras per vehicle. These are not only high dynamic range CMOS sensor based cameras, but also SPAD based LiDARs used mainly for autonomous driving cars. TowerJazz is poised to meet the expanding needs of this market with our single-photon avalanche diode (SPAD) state of the art technology as well as ultra-fast global shutter pixels for automotive LiDARs based on ToF (Time of Flight) principles.
Security
The need for cameras at every street corner and in every building is increasing very fast and the momentum of moving from VGA cameras to HD, Full HD and QHD (4Mp) is very high. TowerJazz uses our state of the art pixel technology in our 12" Uozu, Japan facility to provide the best security sensors in the market. We see very fast growth of this market. Our unique light pipe technology in 65nm allows us to offer small, yet with very high QE (quantum efficiency) pixels required for high-end security. In addition, our recently developed BSI and stacked wafers technology place us at the forefront of CIS technology for this market as well as for the high-end photography market segment.
Industrial / Machine Vision
Driven by the need for automation of factories, especially in the food industry, as well as household intelligent robots (like vacuum cleaners), 2D barcode readers, traffic control cameras and many more, the machine vision market is growing fast. The common denominator of all these applications is the need for a very fast, high frame rate, global shutter operation. In the industrial sensor market, we are working with partners on the development of a 2.5um state of the art global shutter pixel on a 65nm 300mm platform. We believe that our current generation of global shutter technology on both 180nm and 110nm will keep growing but will gradually be augmented and eventually replaced by this next generation 300mm technology that will enable us to maintain our market edge for years to come.
LATEST ACHIEVEMENTS
TowerJazz recently announced a partnership with YuanChen Microelectronics (YCM) for backside illumination (BSI) manufacturing in Changchun, China that will provide the BSI process segment for CMOS image sensor (CIS) wafers manufactured by TowerJazz on 8" wafers. This partnership will allow TowerJazz to serve its worldwide customers with advanced BSI technology in mass production, starting in the middle of 2018. In addition, TowerJazz developed BSI and stacked wafers technology on 12" wafers that is being offered to customers now. This will serve as our next generation platform for the high-end photography market as well as for the high-end security market.
R&D COLLABORATION
Within longer term CIS R&D activities, TowerJazz is investigating integration of sensing elements into the CMOS back-end which includes nano-antennas, nano-dots and sensor structures employing unique organic materials. These works are performed in cooperation with start-ups and academia groups and are intended to widen the range of registered radiation into longer wavelength IR, increase sensitivity and decrease dark currents, facilitate new device options and finally propose customers pixels with outstanding performance. This is especially relevant for the AR/VR and automotive markets that are looking constantly for longer wavelength IR solutions driven by the need for better performance in harsh weather conditions (automotive) and eye safety (AR/VR).
Dr. Avi Strum: "In the CIS market, we are investing today in technology for three main directions: next-generation global shutter technology for the industrial sensor market, back-side illumination and stacked wafers for the high-end photography market, and special pixel technology for the automotive market. Through R&D, innovation and partnerships with leaders in these areas, we are in a strong position to take advantage of these anticipated high growth markets."