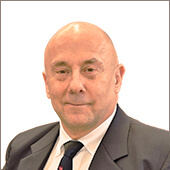 "The Youthful Mind"
Message from Mr. Russell Ellwanger—TowerJazz CEO & TPSCo Chairman
I enjoy being a grandfather. Every moment is wondrous as you watch a child grow, becoming more aware of the world and their ever increasing abilities and opportunities. They perceive no limits to their exciting new world and I see this freedom from limits much more clearly than I did a few decades ago. They are not hampered by experience and have no perceived boundaries. For them, everything is an adventure. Every step contains learning and each day is forward looking and expansive. They learn through play and dreaming, with great excitement, while enjoying the world in its simplistic beauty.
Bill Clinton is quoted as saying, "When our memories outweigh our dreams, it is then that we become old." The quote has truth in it, but isn't complete. I believe: "When our memories outweigh our dreams and consequent actions , old sets in." Dreams and consequent actions work as a cross product. Dreams alone, without consequent actions, define one as nothing more than childish. However, an amalgam of capability based decisions and actions with youthful exuberance and limitlessness will render most any dream into reality. People who have big dreams, high aspirations, and actively pursue paths lined with activities towards their realization, are "young" regardless of what year they were born. As a consequence, such people with youthful minds inspire and are positively accretive to any environment.
These youthful minds drive science and technology innovations, grow businesses, and actively contribute to social and environmental initiatives. Their excitement, dreams/aspirations, and directed positive activities keep life interesting. The moment the leaders in an enterprise stop dreaming and driving, and begin dwelling on the past, a company enters a geriatric stage with a declining future
In a previous company, when the company president was replaced, I saw firsthand how "aging" can occur almost instantaneously through a change in corporate culture. Many things changed, but foremost was a shift in the individual characteristics of excellence that were sought after and rewarded in the employees and demonstrated by the leader. The previous president greatly valued new ideas and challenges to the status quo, never feeling threatened by them. He had led innovation and excitement in every aspect of the company, be it technical, human resources, sales or business models. Immediately after his departure, the company began to show signs of old age. In spite of costly acquisitions, growth and profitability stagnated. The "great days" under the previous president became a regular discussion topic among key staff. It took thirteen years and new leadership for the company to again exhibit signs of youth. I can feel it in my interactions with previous colleagues still at that company. Shareholders can see it in market cap increases.
People who live in the past, always reflecting on individual "ancient" achievements are bores. In contrast, people who build on past achievements and relentlessly pursue lofty goals, are winsome and captivating. They are the model for joy and fulfillment. The same holds true for corporations.
People who build on past achievements and relentlessly pursue lofty goals, are winsome and captivating. They are the model for joy and fulfillment. The same holds true for corporations.
TowerJazz is a company that has value-based dreams and high aspirations with a most capable and impassioned staff; continually taking actions, evaluating and moving forward. We know that leadership and learning are interdependent. We remain excited to learn with you, our trusted customers, to create value and to remain young while we pursue mutually beneficial dreams, moving them through an opportunity funnel to successes. Now in my sixty-third year of life, I have never felt younger. Leading this company, one that has led the industry in growth- financials, geographic footprint, human resource skills and passion, and importantly has a secure and growing free cash flow to invest in meaningful value, provides me with a constant source of optimistic youthful excitement and high aspirations built upon 40 years of industry learnings to turn dreams into reality. And, as we continue to converge dreams to customer partnered value, more avenues are opened. We remain committed to convert opportunities, which others may not even dare to dream, into win-win realities. To quote singer-songwriter, Carole King, "There's so many dreams I've yet to find," but our chosen course and developed culture will ensure we find them!
In closing, I express full alignment to the words of Senator Robert Kennedy, "This world demands the qualities of youth; not a time of life but a state of mind, a temper of the will, a quality of the imagination, a predominance of courage over timidity, of the appetite for adventure over the life of ease."
Thank you.
Q2 2017 Financial Results Highlights
Quarterly Revenues with Strong Year over Year Growth
Strong and continuous revenue growth
Record revenues         
Quarterly revenues of $345 million (13% YoY growth)
Q3 mid-range guidance of $355 million
Substantial net profit and margins increase
Record EBIDTA of $108 million, up 24% year over year
Net profit of $50 million, up 30% year over year
Strong Balance Sheet and Financial Ratios
Increased cash and short-term deposits to $484 million
Record shareholders equity of $814 million (as of June 30, 2017), as compared to $683 million (as of Dec'31, 2016)
TECHNOLOGY/R&D & INNOVATION
TowerJazz Advanced Power, CMOS Image Sensor and Analog RF Manufacturing Technologies Address ADAS and Autonomous Driving Requirements
TowerJazz is addressing the growing demand for analog devices in the automotive market through leading technology solutions and close partnerships with market leaders as well as roadmap alignment with our customers and world-class global support.
According to MarketsandMarkets, automotive semiconductor content will be dominated by analog with 69% share. The increasing demand for automobiles with enhanced features such as wireless connectivity, radar, cameras, LED headlights and LiDAR (Light Detection and Ranging) as well as the overall trend of vehicle electrification is driving the growth of this market.
TowerJazz offers many leading technologies to address the growing requirements of analog ICs for automotive in the areas of power management, CMOS image sensors and RF & high-performance analog. Below is a brief overview of each technology area.
Power Management
Starting from motor controls and drivers to LED headlights and LiDAR (Light Detection and Ranging) to 48V power architecture in new cars, TowerJazz is supporting leading automotive customers with our differentiated technologies using bulk and SOI processes. Our power management technology offers high integration capabilities using dense digital libraries with a large portfolio of memories (both OTP and MTP). The technology has best in class switching power transistors with low Rdson for supporting high efficiency designs for voltages ranging from 1.8V up to 200V. We offer 200V SOI and 140V bulk together with additional isolations schemes all with high reliability, high temperature modeling and robust ESD solutions. We offer fast switching devices for smaller BOM size and are extending our technology platform by partnering with leading automotive customers. We work closely with our customers to customize devices per their needs to best perform in the automotive market. Our platform flexibility allows customers to reuse their existing circuits to reduce design time and lower the risk. TowerJazz has qualified all major power management flows in at least two geographically distinct production sites to ensure customers of supply at all times.
CMOS Image Sensors (CIS)
In recent years, camera based sensors have started to perform wide ranging tasks such as road signs detection, lane departure warning, light beam control, parking assist (front/side/rear cameras) and even driver monitoring. While camera based sensors provide exceptional lateral resolution of the surroundings in well-lit or medium-lit conditions, their performance deteriorates rapidly in harsher conditions such as in the dark, rain, fog or snow. Two complementary imaging technologies overcome these impediments: infrared imaging and LiDAR. Infra-red thermal imaging provides superior sensitivity in harsh conditions albeit lower resolution, and laser based LiDAR provides 3D imaging of the surroundings with remarkable spatial resolution and distance measurement accuracy. These sensors work together to offer the driver a complete image of the surroundings. TowerJazz offers all three types of image sensor solutions. Our low dark current 4T, 5T, and the latest, 6T global shutter pixels enable imaging with high dynamic range (up to 120dB and even beyond), high frame rate and up to 4K ultra high definition cameras. MEMS-based bolometer technology offers excellent low-light IR thermal imaging capability. And finally, best-in-class active-gated pixels and single photon avalanche photodiode (SPAD) technologies enable industry-leading Time of Flight (ToF) sensing for LiDAR applications. TowerJazz offers CIS foundry solutions on both 200mm and 300mm wafer sizes, and in four of our fabs on three continents.
RF and HPA (High-Performance Analog)
Radar drives a large portion of the automotive RF semiconductor content today, while connectivity solutions are seeing rapid growth as well. Because of the high performance needed at high frequencies for automotive radar (24 – 26GHz for short-range and 76-81GHz for long range), TowerJazz's SiGe Terabit Platform is ideally suited to serve this exciting and growing market. Our SBC18H2 through SBC18H5 SiGe technologies offer Ft of 240 — 300GHz and Fmax of 280 — 340GHz, offering customers latitude to trade off speed and noise requirements for their specific applications. Our SiGe Terabit Platform comes with two CMOS options: 1.8V/3.3V (180nm) and 1.2V/3.3V (130nm). All our SiGe technologies offer customizable metallization schemes and high-performance passives (MIM capacitors and inductors) to tailor the offering to each customer's specific end-application. For more cost-sensitive applications, we offer a complete 65nm RFCMOS technology platform in our Uozu, Japan factory. For wireless connectivity solutions, we offer a front-end module on-a-chip RF platform in addition to advanced RFSOI and RFCMOS technology offerings with best-in-class Ron-Coff for switches and noise figures for low-noise amplifiers.
For more information on any of these process offerings, please visit here.
TOWERJAZZ TECHNICAL GLOBAL SYMPOSIUM (TGS)
TowerJazz 2017 Technical Global Symposium (TGS) Events
This year, our annual Technology Global Symposium (TGS) events take place in Europe, Japan, China, Korea and the US.
By joining us at one of our TGS worldwide venues, you will learn more about our advanced and differentiated specialty analog technology offerings such as RF/HPA, power management and CMOS image sensors, targeted for the manufacture of ICs in growing markets such as consumer, industrial, automotive, medical and aerospace and defense. In addition, we will discuss the latest design enablement tools and capabilities jointly developed with our EDA partners.
The focus for TGS this year is the Company's leading technology and customer partnerships, based on full circle value creation. As the leading analog pure play foundry, with a proven business model and technology leadership in growth markets, TowerJazz creates value for our customers from design concept to volume production, by providing them with the most advanced analog technology, thus enabling their competitive advantage and fast time to market.
The first 2017 TGS event was held in Amsterdam on June 14, with more than 100 people in attendance. Various topics were focused on the fast growing automotive and sensors markets, and the IoT. The event was a great forum to share ideas for innovation and interact with our existing and potential customers and partners. We would like to thank our special guest speakers, Mr. Frederic Breussin, BU Manager MEMS & Sensors at Yole Developpement for his talk on "The Role of Sensors in Autonomous and Electric Vehicles," and Mr. Joerg Kock, Manager, System Architecture & Innovation BU, Automotive / Magnetic Sensors at NXP for his talk on "Automotive Sensors for Autonomous Cars."
The next TGS events will be hosted on the following dates and in these locations:
Japan: August 30, 2017 — InterContinental Hotel Tokyo Bay (registration open)
Korea: September 26, 2017 — Grand InterContinental Seoul Parnas
China: October 17, 2017 — Parkyard Hotel Shanghai
USA: November 14, 2017 — Hyatt Regency, Newport Beach, CA
Each year, more than 450 attendees from over 250 organizations including semiconductor and design service companies, universities, government institutions, and industry analysts attend TGS; a great platform for networking with industry leaders while gaining additional knowledge and initiating new business opportunities.
For more information on our TGS worldwide events, please click here.
We hope to see you there!
We thank our 2017 TGS sponsors:
TowerJazz Participation in 1H 2017 Global Semiconductor Events
Showcasing our specialty technology leadership, world class design enablement services and multi-sourcing capabilities
DAC l June 18-22, 2017 l Austin, TX
Hands-on training on our PDKs and demos on reference flows were provided at the TowerJazz booth along with technical presentations on our TS18PM mixed-mode reference design, using Tanner and Nitro as well as an Emprean reference design presentation and demonstration. We also collaborated with partners and presented our silicon photronics process and dedicated PDKs with Calibre tools and our automotive reliability with RESCAR checks and Calibre PERC reliability analysis at the Mentor booth. At the Cadence booth, we presented Cadence® Electrically Aware Design (EAD) and Voltus®-Fi Methodology enablement at TowerJazz. In addition, we presented our automotive offering and reference design using the Synopsys AMS flow.
International Microwave Symposium (IMS) l June 6-8, 2017 l Honolulu, HI
TowerJazz participated again this year at IMS (the International Microwave Symposium), a very important and relevant conference for TowerJazz to showcase our RFSOI, 65nm-RFCMOS, SiGe BiCMOS and MEMS foundry solutions for advanced wireless communications. IMS attracted nearly 8000 attendees and featured over 450 exhibiting companies from around the world. The conference program covered the latest RF, microwave, and wireless advances in emerging areas such as 5G, automotive, radar, wearable electronics, the Internet of Things, the Internet of Space, medical applications and many more. This year's IMS focused specifically on 5G and millimeter-wave technologies which is aligned with TowerJazz's advanced technology offerings.
ChipEx l May 9-10, 2017 l Tel Aviv, Israel
ChipEx is the largest annual event of the Israeli microelectronics industry. The event commenced with an Executive Summit on the opening evening with our CEO Russell Ellwanger providing the keynote speech, "Value Creation, the Driver of Success". On the next day, as part of the technical session, "Advanced SW and Silicon Technologies," Jonathan Kantarovsky, TowerJazz Device Engineer presented "Improving Efficiency of Power Management ICs by Optimizing Resistance and Capacitance Using Triple Splits Gates (TSG) Transistors."
HEART (Hardened Electronics and Radiation Technology) l April 24-26, 2017 l Denver, CO
Each year, TowerJazz participates at HEART, one of the mainstay Aerospace and Defense (A&D) conferences attended by the key government agencies, all major Department of Defense (DoD) parties of interest, and a large number of TowerJazz A&D customers. This year TowerJazz stressed that through the Newport Beach facility, we serve the widest range of technologies that may be used by A&D customers for government, military, and defense requirements. These include large die ROICS, imagers, silicon photonics, CMOS on SOI for Rad Hard applications, and millimeter devices, among others.
Applied Power Electronics Conference (APEC) l March 26-30, 2017 l Tampa, FL
APEC 2017 focused on integrated power system solutions. TowerJazz showcased the expansion of our advanced power technology for low voltage and high voltage automotive applications: TS18PM technology up to 60V addresses low voltage up to 48V applications and TS18SOI technology addresses high voltage up to 200V automotive applications. TowerJazz's 0.18um BCD and SOI power technology is qualified in our Tonami, Japan fab, providing our customers with two sites and over 30 years of automotive IC manufacturing experience. The TowerJazz team has introduced the San Antonio fab as well for a broad range of applications using our 0.18um BCD technology.
SPIE Defense + Commercial Sensing Expo l April 11-13, 2017 l Anaheim, CA
SPIE is the international society for optics and photonics, and the exhibition is key for researchers, engineers, and product developers for everything from components to the most advanced sensor systems. At SPIE, TowerJazz featured our strategic, on shore foundry services for critical U.S. aerospace and defense applications. As SPIE is an international conference serving both defense and commercial markets, we also communicated our off shore offerings and capabilities and had customer interest in our Israeli and Japanese facilities as well.
TowerJazz Community Contribution/Social Responsibility
TowerJazz supports a wide range of health, education, social and community activities that affect and involve its employees and the community's well-being. In the past few months, these activities included:
FIRST LEGO LEAGUE
TowerJazz sponsors teams in both Israel and the US; guided by adult coaches, FIRST LEGO LEAGUE challenges kids to think like scientists and engineers. The teams research a real-world problem such as food safety, recycling, energy, etc., and are challenged to develop a solution. They also build, test, and program an autonomous robot using LEGO: MINDSTORMS® technology to solve a set of missions in the Robot Game. FIRST LEGO LEAGUE includes over 30,000 teams from over 85 countries around the world.
The TowerJazz sponsored team in Israel won overall third place at the FIRST LEGO LEAGUE national championship in Tel-Aviv, Israel. This achievement advanced the team to the Open European Championship held in May in Denmark. Being one of 120 teams from all over the world, the team did very well, demonstrating a high level of performance with multiple "Exemplary" scores in all categories.
The team in the US (Texas) did well in the local qualifier tournament, winning first place in core value and third place overall. The team is comprised of 10-year olds (4th graders), who have much potential to grow with the support from TowerJazz and other sponsors
"Congratulations to all these enterprising young kids!
Mountain to Valley Relay Race (M2V)
Once again, our employees participated in the "Mountain to Valley Relay Race" from the upper Galilee Mountains to the Yzra'el Valley, where the TowerJazz facility is located in Israel. The race combines personal athletic experience and group collaboration with teams running in open spaces along 215 Kilometers (in about 20-4 hours). Three teams represented TowerJazz and included both men and women. We congratulate our employees who once more demonstrated their strength, devotion and persistence!
Good Deeds Day is an international celebration of DOING GOOD! This year on April 2nd, TowerJazz participated in "Good Deeds Day" activities around the world. Employees collaborated with environmental organizations and retirement institutions, renovated buildings, prepared food packages for families in need and participated in blood drives.
English and Math Classes Volunteering
This is the fourth year TowerJazz employees have participated in an English learning project, giving the youth in Israel an opportunity to learn English, improve their communication skills, and widen their English vocabulary to help open their minds to the opportunities their futures can offer. This year, TowerJazz entered into a new project teaching Math at a high school in Migdal Haemek, Israel.
Tower Semiconductor nears NIS 10b market cap
Tower, which now specializes in analog chips, has seen its share price double over the past year. The share price of Tower Semiconductor Ltd. (Nasdaq: TSEM; TASE: TSEM) (which trades as Tower-Jazz), one of the Tel Aviv Stock Exchange (TASE) stars for the past year, soared by over 10% in the past week, and has now almost doubled in the past year, reaching its highest level in a decade and boosting the Migdal HaEmek-based company's market cap to NIS 9.5 billion ($2.6 billion). Tower Semiconductor, which specializes in analog chips, is scheduled to publish its results for the second quarter of 2017 on August 3. The company, led by CEO Russell Ellwanger, posted $330 million in revenue in the first quarter 18.7% more than in the corresponding quarter in 2016.
CWS SIPEX RELEASED IN TOWERJAZZ'S CS18 (RF SOI) PROCESS DESIGN KITS
The new design tool will improve the linearity of RF designs and accurately simulate and model critical RF functions for 5G and IoT communications
Coupling Wave Solutions, S.A. (CWS), a leader in solutions for interference analysis in complex chip designs incorporating RF and analog blocks, today announced TowerJazz (NASDAQ: TSEM), the global specialty foundry leader, has adopted CWS' SiPEX in its CS18 RF SOI process design kits (PDKs) to provide improved substrate modeling. SiPEX models the silicon substrate on insulators generating a compact circuit based representation that is compatible with the rest of the PDK. RF designers will now be able to accurately model parasitic physical effects that impact the integration of critical analog and RF functions in complex electronic systems for next generation cellular and Wi-Fi communication chips. TowerJazz's CS18 PDKs is offered with SiPEX™ already integrated.
RF Device and Process Biz Heats Up
The RF device and process technology markets are heating up, especially for two critical components used in smartphones—RF switch devices and antenna tuners. RF device makers and their foundry partners continue to ramp up traditional RF switch chips and tuners based on RF SOI process technologies for today's 4G wireless networks.
But will RF MEMS devices displace those based on RF SOI? One company, TowerJazz, can perhaps provide some insights. TowerJazz provides traditional RF SOI processes, and is also the foundry provider for Cavendish's RF MEMS devices. "There may be some small overlap where RF MEMS and RF SOI will compete for the same application. In general, they will complement each other (with) RF MEMS winning in the most demanding applications and RF SOI the rest," said Marco Racanelli, SVP & GM of RF/HPA BU, TowerJazz.
"RF SOI continues to evolve and thus remains viable and preferred for RF switching applications and some portion of the low-noise amplifier market," Racanelli said. "However, there are some applications where alternative technologies, such as SiGe for low-noise amplifiers and MEMS for switches, can offer improved linearity or lower losses. And while RF SOI will continue to serve an expanding market, other technologies will have their place as well."
Tower teams with Aisin Seiki on car chips
TowerJazz's power management platform will enable the Japanese company to produce industry leading performance for car chips.
Global foundry Tower Semiconductor Ltd. (Nasdaq: TSEM; TASE: TSEM) is teaming with Japanese automotive supplier Aisin Seiki, Co., Ltd, part of the Toyota Group, on car components. Tower markets under the name TowerJazz. The two companies have announced volume production of Aisin's new generation automotive devices using TowerJazz's power management technology platform.
TowerJazz's power management platform enables industry leading performance for car chips by providing: scalable LDMOS and ESD devices for area efficiency, its patented Y-Flash OTP/MTP solutions, as well as buried Zener diode, Schottky diode and other advanced features.