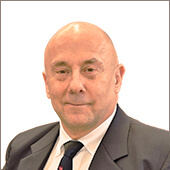 "The Youthful Mind"
Message from Mr. Russell Ellwanger—TowerJazz CEO & TPSCo Chairman
I enjoy being a grandfather. Every moment is wondrous as you watch a child grow, becoming more aware of the world and their ever increasing abilities and opportunities. They perceive no limits to their exciting new world and I see this freedom from limits much more clearly than I did a few decades ago. They are not hampered by experience and have no perceived boundaries. For them, everything is an adventure. Every step contains learning and each day is forward looking and expansive. They learn through play and dreaming, with great excitement, while enjoying the world in its simplistic beauty.
Bill Clinton is quoted as saying, "When our memories outweigh our dreams, it is then that we become old." The quote has truth in it, but isn't complete. I believe: "When our memories outweigh our dreams and consequent actions , old sets in." Dreams and consequent actions work as a cross product. Dreams alone, without consequent actions, define one as nothing more than childish. However, an amalgam of capability based decisions and actions with youthful exuberance and limitlessness will render most any dream into reality. People who have big dreams, high aspirations, and actively pursue paths lined with activities towards their realization, are "young" regardless of what year they were born. As a consequence, such people with youthful minds inspire and are positively accretive to any environment.
These youthful minds drive science and technology innovations, grow businesses, and actively contribute to social and environmental initiatives. Their excitement, dreams/aspirations, and directed positive activities keep life interesting. The moment the leaders in an enterprise stop dreaming and driving, and begin dwelling on the past, a company enters a geriatric stage with a declining future
In a previous company, when the company president was replaced, I saw firsthand how "aging" can occur almost instantaneously through a change in corporate culture. Many things changed, but foremost was a shift in the individual characteristics of excellence that were sought after and rewarded in the employees and demonstrated by the leader. The previous president greatly valued new ideas and challenges to the status quo, never feeling threatened by them. He had led innovation and excitement in every aspect of the company, be it technical, human resources, sales or business models. Immediately after his departure, the company began to show signs of old age. In spite of costly acquisitions, growth and profitability stagnated. The "great days" under the previous president became a regular discussion topic among key staff. It took thirteen years and new leadership for the company to again exhibit signs of youth. I can feel it in my interactions with previous colleagues still at that company. Shareholders can see it in market cap increases.
People who live in the past, always reflecting on individual "ancient" achievements are bores. In contrast, people who build on past achievements and relentlessly pursue lofty goals, are winsome and captivating. They are the model for joy and fulfillment. The same holds true for corporations.
People who build on past achievements and relentlessly pursue lofty goals, are winsome and captivating. They are the model for joy and fulfillment. The same holds true for corporations.
TowerJazz is a company that has value-based dreams and high aspirations with a most capable and impassioned staff; continually taking actions, evaluating and moving forward. We know that leadership and learning are interdependent. We remain excited to learn with you, our trusted customers, to create value and to remain young while we pursue mutually beneficial dreams, moving them through an opportunity funnel to successes. Now in my sixty-third year of life, I have never felt younger. Leading this company, one that has led the industry in growth- financials, geographic footprint, human resource skills and passion, and importantly has a secure and growing free cash flow to invest in meaningful value, provides me with a constant source of optimistic youthful excitement and high aspirations built upon 40 years of industry learnings to turn dreams into reality. And, as we continue to converge dreams to customer partnered value, more avenues are opened. We remain committed to convert opportunities, which others may not even dare to dream, into win-win realities. To quote singer-songwriter, Carole King, "There's so many dreams I've yet to find," but our chosen course and developed culture will ensure we find them!
In closing, I express full alignment to the words of Senator Robert Kennedy, "This world demands the qualities of youth; not a time of life but a state of mind, a temper of the will, a quality of the imagination, a predominance of courage over timidity, of the appetite for adventure over the life of ease."
Thank you.